The official music video for the new single "Más Allá De La Existencia" is premiering this Friday, September 4th at 12:00 am PDT.
The best quality versions will be available on Youtube, in a widescreen 4k resolution.
HD Facebook-friendly versions will be also available on every social media platform.
This video was produced by 1440 Entertainment Productions and was shot in locations at North Hollywood and Burbank, California during August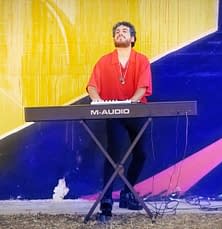 2020 in the middle of the coronavirus pandemic. Fortunately, the numbers in Los Angeles have dropped down significantly which made the shooting possible following the best possible safety measures for all the crew involved in this project.
Hopefully, the result of this work can bring some well-deserved stress-free entertainment to every music and art lover, and most importantly, this video is dedicated to every person in the world that wants to enjoy the magic of music.
The music journalist Jonathan Widraw said "On his latest track, the high octane, hypnotic and sweeping instrumental electronica driven "Mas Alla De La Existencia," Rob shares the full force of his creative expression. The title translates to "Beyond Existence" and as it quickly sweeps us off to far off places, one can imagine it serving as a soundtrack to an adventurous journey to those outer limits of the universe – and filled with many unanticipated delights."
The Single "Más Allá De La Existencia" is available now on every streaming platform. Click here for the links.
Más Allá De La Existencia Music Video credits
Directed, video-graphed, and edited by 1440 Entertainment Productions.
Image consultant and wardrobe (Chile): Daniela Espinoza
Image consultant (Los Angeles): Sandra Kaler
Executive producer: Rob C
Filmed in North Hollywood and Burbank, California